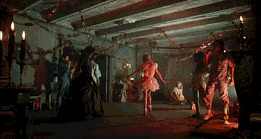 The Living Room is a cardinal area located in Hull House. It appears in all the versions of the Night Of The Demons franchise.
Night Of The Demons, 1988
In 1988, the living room was used by Angela Franklin and co-party goers as the dance hall. During the party, they experienced various supernatural events including chilling sounds, filthy odor and several disturbances. The living room was then used for a past life seance, allowing the demonic spirits to infest the room and eventually possessing Suzanne. When the rest of the group splits, Angela Franklin frightens Sal Romero by an erratic dance, later joined by Stooge, killing him afterwards. Sal then re-enters the room, only to find out Angela burning her hands in the fireplace, terror struck Sal sprints out of the room.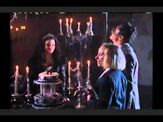 Middle Years
Angela Franklin continued to haunt the house over the years, one of the doomed victims visiting were Albert and Linda, who were invited by Angela to have a piece of mucky cake in the living room, later being slaughtered by her.
Night Of The Demons, 1994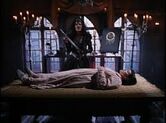 Shirley, Johnny and Z-Boy effectuated the living room to perform a hideous prank on Melissa Franklin in the year, 1994. They sprayed the anagram above the fire place to give an impression of a satanic ritual, however, the latter sprinted from the house upon the closure of the prank and certain demonic disturbances. The room was then again, used by a demonic Angela Franklin, about to perform a sacrifice on Melissa, however, she was later defended by the remaining trio.